The following is a Lakota Sioux prayer
Four Directions Prayer
Creator, it is I. Thank you for today's sunrise, for the breath and life within me, and for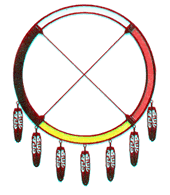 all of your creations. Creator, hear my prayer and honor my prayer.
As the day begins with the rising sun, I ask, Spirit Keeper of the East, Brother Eagle, Be with me. Fly high as you carry my prayers to the Creator. May I have eyes as sharp as yours, so I am able to see truth and hope on the path I have chosen. Guide my step and give me the courage to walk the circle of my life with honesty and dignity.
Spirit Keeper of the South, Wolf, Be with me. Help me to remember to love and feel compassion for all mankind. Help me to walk my path with joy and love for myself, for others, for the four-legged, the winged ones, the plants and all creation upon Mother Earth. Show me it is right for me to make decisions with my heart, even if at times, my heart becomes hurt. Help me to grow and nurture my self-worth in all ways.
Spirit Keeper of the West, Brown Bear, Be with me. Bring healing to the people I love and to myself. Bring into balance the physical, mental and spiritual, so I am able to know my place on this earth, in life and in death. Heal my body, heal my mind and bring light, joy, and awareness to my spirit.
Spirit Keeper of the North, White Buffalo, Be with me. As each day passes, help me to surrender, with grace, the things of my youth. Help me to listen to the quiet, and find serenity and comfort in the silences as they become longer. Give me wisdom so I am able to make wise choices in all things which are put in front of me, And when the time for my change of worlds has come, Let me go peacefully, without regrets, for the things I neglected to do as I walked along my path.
Mother Earth, Thank you for your beauty, And for all you have given me. Remind me never to take from you more than I need, and remind me to always give back more than I take.
– Vera Dery, 2002
I recently came across a wonderful website that has important messages to all Americans and secondarily to all the people of the world.  It is a collection of quotes, comments, beliefs and some history of the Native Americans. Please have a look at this site.
Respect Mother Earth
Whenever men have intervened in nature, the results have been disastrous. We have not learned to live in harmony, respecting the seasons, respecting wildlife, respecting up to the smallest insect.  Everything has a reason or a place in Mothers home.  Mother Earth has enough resources to feed and clothe us and to provide for our daily needs.
Why is it necessary to destroy and deplete her and to take more than is needed, creating an imbalance.  This poses a danger to all humankind.  Nature abhors imbalance and will always react in ways humans cannot predict.  look at what is happening in the Amazon. The deforestation of the rainforest, hectare after hectare, caused by man's greed, eliminates the biggest lung on earth which significantly contributes to climate change.
What this website is about
Earth Treasures is dedicated to identifying the ample ways Mother Earth provides health and beauty for all who seek her gifts, from ancient to modern times.
Looking at our planet, one can only be inspired by the awesome beauty.  The variety in nature is astonishing.  From flora to fauna, the colors of the sky and the countless minerals in the ground,  it is all a pleasure to behold.
Hidden in the earth there are many-fold treasures and humankind has been looking for them since the beginning.
Primitive man used stones for many purposes.  But stones have different properties.  Some stones were rough and good for grinding grain while other stones could be worked to a sharp edge to make tools.  Some were shiny and had a vibrant color.  These were kept as talismans or decorations. So man started looking for stones to meet these specific purposes.
Modern man can look at stones and imagine the past.  He can see the grinding patterns on the millstones, the flakes of obsidian left where arrowheads were made, the wonderful gems and precious stones that were used as currency, charms and for healing.
I will be discussing these and many other aspects of Mother Earth's gifts in subsequent posts.
Photo Source: Private