My Love for Stones and Jewelry
I think, that worldwide there are few women who are not interested in some kind of jewelry. Through the ages, women have tried to make themselves prettier by adding some colorful stones to their looks.
From the time I was a small girl, I have always loved stones and started collecting them. I think it enhances any outfit if one takes care of the color combination of your clothes and your accessories.
Jewelry can improve your mood.
It will definitely improve your mood when you feel you look nice, and one should not forget the positive influence stones can have on your health.
My first ring
I certainly belong to the group of women who love jewelry. From a young age, I have been fascinated with all kinds of jewelry. The day my parents gave me my first ring with a small round coral, I must have been some 6 years old, made me happy and I had to show off at school.
Once a good friend of my parents (he lived in the US) came to visit. He had 2 big unset Turquoise stones from Mexico and gave them to my mother as a present. In the town lived a goldsmith who created 2 beautiful rings from these stones, one for my mother and one for me. I still have this ring.
When your collection of jewelry grows over time, it is a good idea to get a beautiful jewelry chest. You have your things organized. The pieces cannot scratch each other, and you will find the piece you want to wear on that day immediately.
Now that I am older, I have made a list of the pieces I want to give my family members or girlfriends. I will be happy knowing other people will enjoy wearing these pieces.
.
I discover an auction channel for jewelry
Since 2000 I have had satellite TV and one day I discovered a jewelry auction channel. The curious thing is that as in a normal auction the prices go up, here they go down. The auction continues until all pieces are sold and everybody pays the lowest price.
As this company manufactures its own designs and then sells directly to the public, the prices are more than competitive. By calling a free telephone number, one can take part or one can go shopping online. Here you see a collection of my earrings with original stones to suit all occasions.
I went shopping
I found it fascinating to watch, as they have over 500 different stones for sale, also one learns a lot about the history and the mining process. There are pieces in all price categories starting at 19 Euros.
Often silver is used and also different grades of gold. I must confess I went a bit extravagant, as it was so cheap, with sometimes a third or less of the current shop price, and bought quite a bit for myself and as gifts for my friends.
Shopping online
Now if you do not like to watch tv for a longer period there are different companies where you can go shopping for colored stone jewelry online.
With modern technology, you can see the pieces from different angles to get a good idea of how they will look in real life.
I have found an online store where you can purchase crystals, jewelry, polished stones, and a whole lot more. Exquisite Crystals offers all those beautiful gifts Mother Earth has for us, from loose tumbled stones to necklaces and pendants. The variety of stones goes from turquoise, jade, quartz, lapis- lazuli, amethyst, and much more.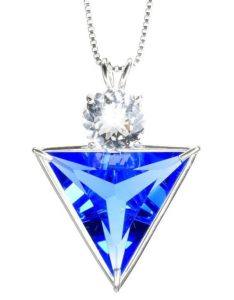 Conclusion
If you spent money on jewelry, buy genuine stuff. Custom jewelry can be nice, but a real stone set in silver or gold will last many generations.
I have made a special page for you. It holds a collection of things you might find interesting. Before you leave, take a look at Recommendations.
Source: My Life
Photo Source: Private Photos