(Last Updated On: January 29, 2023)
800-Year-old trees are at risk, help save Tongass National Forest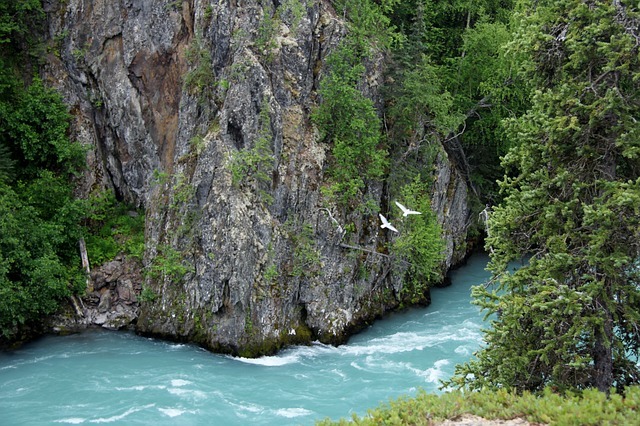 Do you know the name of the largest national forest in the United States? It is the Tongass National Forest, and it is situated in southeastern Alaska, in what is called the Panhandle.  Why am I asking you this question?. It is because today,10th of September 2018 I got a newsletter from Sierra Club which entailed some disturbing news.
Destructive forces at work
The Trump administration wants to make a deal with Alaskan authorities to open up Tongass for logging and road construction.  It is amazing at what speed the destructive forces of this administration operates. Remember Bears Ears and the Grand Staircase-Escalante? Ancient sites, huge fossil findings, and nature on the whole with all its right full inhabitants to be destroyed. Then came the idea of starting to drill on most of the U.S. coast.
Hearing about these awful issues, I feel our planet would be much better off without us. Humanity is a destructive species with an alarming capacity of ruining beautiful and valuable things.  Then again, there are many people who do care about Mother Earth. These people plant trees, collect the plastic from our oceans or find solutions to give clean drinking water to millions of people worldwide.
To me, it seems an ongoing battle between good and bad. Let us hope good will win in the end before we have destroyed our habitat.
I would like to tell you a bit about the history of the Tongass National Forest. 2 important bits of data before I start.
The Tongass stores 10% of the carbon stored by all the national forests combined, that is important environmental data. Tongass National Forest is the largest in the United States. It has an area of 16.7 million acres (68.000 km2) and its situation is so remote that it gives safe haven for many endangered species of fauna and flora. It is managed by the United States Forest Service and besides fjords and glaciers, it also encompasses the islands of the Alexander Archipelago.
The Tongass attracts over 1 million visitors each year. They come to enjoy the beauty and clean air. Families show their children how to be in harmony with nature while having a great day outdoors. Fathers will show their sons the tricks of fishing, and they can catch some good salmon. The total represents 2 billion in revenue that the forest supports.
A little of history about this wonderful place
On the 20th of August 1902, through a proclamation by President Roosevelt, the Alexander Archipelago Forest Reserve was founded. A few years later, on the 10th of September of 1907, a new presidential proclamation created the Tongass National Forest. In 1908 on the first of July the 2 forests were joined and now cover most of Southeast Alaska.
The Tongass Timber Reform Act
Many things happened over the years. After World War II, the Forest Service set up long-term contracts with 2 pulp mills. After lawsuits about who can cut and how much, the end result was that by the middle of the 1990s, they had removed more than half of the old-growth timber.
In 1990 the Tongass Timber Reform Act rewrote the relationship with the logging industry. New wilderness areas were established and other places became off-limit to the logging companies
. These companies became limited in their movement and were subject to environmental review. In 1993 and 1997, the 2 biggest companies closed down after the companies stated the limitations made them noncompetitive.
The Road-less Initiative
There is another issue which is very important that is the roads. Roads are valuable because they connect the local communities and enable the visitors to move around.  Visitors who come for trekking, fishing, hunting, and recreation. But roads were constructed mainly for the movement of timber cut through native forests and were primarily loose rock filled with soil.
Once you cut a clearing through the forest and grade the road to establish a path big enough for equipment to remove timber, you cut through the established network of roots, fallen timber, and detritus and expose the loose rock and unconsolidated soil to the potential for erosion. As I stated before, the Tongass is in the Alaskan Panhandle, which is on the Pacific coast.  This area receives a lot of rain.
You can visualize an uncontrolled network of roads cutting across hills and destroying entire hillsides and potentially providing the impetus for massive mudslides. The road-less Initiative that included The Tongass National Forest was passed on the 5th of January 2001 to prevent this kind of erosion from happening. They signed this initiative during the last days of the Clinton Administration.
With the following president, there was an attempt to nullify the Road-less rule. A lot of hassle, but no roads were built. Then-President Obama gave green light to clear-cut on 381 acres in the remaining old-growth forest of a Tongass National road-less area. This did not happen as a lawsuit stopped timber sales.
Come and have a look at this majestic forest. Take your time to watch this video.
The largest temperate rainforest in the world
The environmental groups call Tongass the Great Bear Rainforest. It is Earths largest remaining temperate rainforest, with western red cedar, Sitka spruce, and western hemlock. Along the coasts of its thousand islands, you can find 5 species of salmon. The forest is the habitat of brown and black bears, wolves, mountain goats, and Sitka black-tailed deer.
You will be able to see the bald eagles and ravens roam the sky, and many migratory birds come to build their nests during the summer months on the archipelago. In the sea, you will be able to observe Orca and humpback whales together with sea lions, seals, and porpoises.  A real heaven on earth.
Up to 40% of this vast area is wetlands, snow, ice, and rock. No trees grow in this part. Some 10 million acres do have a forest growing, and they consider half of this area productive old-growth of which 4.500,000 acres are wilderness areas. Of all the old growth in the forest, only 11% of the remaining area will ever be harvested.
Stop the imminent destruction of the forest
Today, 12th of September 2018, I received a second email from Sierra Club. The situation is getting more and more serious. The deadline to react is October the 15th. Hopefully, the people will speak up to avoid this catastrophe. It seems that the Trump administration, together with Senator Lisa Murkowski and the Alaska Delegation, instead of protecting this beautiful and valuable place, want to destroy it.
These highly vulnerable and valuable areas on our planet, where carbon dioxide is being absorbed are disappearing at an alarming rate. These valuable places where unique and endangered species live in peace are being destroyed. How will future generations think of our stupid and destructive actions? We have an obligation to take care of Mother Nature; she offers so many things for us to enjoy. We should stop destroying it.
If you would like to contact Sierra Club, you can do here: reply@emails,sierraclub.org
Update
Here is a link to a recent article. It is not clear if the chopping of the trees has started yet. I hope it never will and all inhabitants, be it animal or human, can continue with their life. Planting new trees can never really diminish the crime of cutting 800 years old trees that have cleaned the air for so many years.
Some excellent news
It is January of 2023 and some very good news has come my way. I am really happy to read this article as it means that Tongass will be saved. Here you can read about it.
Before you leave, have a look at Recommendations. It is a special page I made for you with a collection of things you might find interesting.
Source: Wikipedia and Sierra Club
Photo Source: Pixabay.
You might like to read about a great initiative, planting new trees.