(Last Updated On: February 7, 2023)
Have you ever thought about the quality of the air you breathe?
From the moment you are born to the day you die, you have to breathe to stay alive. You can live without food for a long time. Jesus stayed in the desert for 40 days and did not eat. Mahatma Gandhi went on a fast of 21 days.
Now with water, it is different, as over 60% of an adult body comprises water and all your cells need it to survive. They estimate a person can survive 3 Days to a maximum of 4 days without water. Dehydration is something one should take seriously as a loss of over 10% of your body weight is a medical emergency.
There is the story that in 1979 the police forgot a prisoner in a holding cell. The poor guy was Andreas Mihavecs, an 18-year- old Austrian man. They shut him up for 18 days and he came out alive. It is said though, he might have licked condensation off the cell walls.
The most amazing story is that of Prahlad Jani. This 82-year-old Indian yogi claims he has never touched food nor water for a period of 70 years. This is an amazing claim which has been tested by Indian military doctors who observed him round the clock during a 2-week hospital stay.
Whether this story is true, it is without discussion; we need food and water to survive. What is also true is that humans nowadays eat too much and drink the wrong things. But that is not what this post is about.
The importance of the air you breathe
The quality of the air you breathe depends on where you live. There is a big difference in air quality from country to country. The purity depends on the air quality regulations and whether it is in the countryside, in a big city, or in the wide empty natural spaces. The air quality will be very different and measurable.
A YouTube video with information on the oxygen you need.
.

.
An adult inhales and exhales between 7 to 8 liters of air in a minute. Hopefully, this air contains 20% of oxygen. We need oxygen, as our cells need it to function well. This makes one realize how important trees are in our life. It takes between 7 or 8 trees to produce the oxygen you need per year. Where would we be without trees? It is crazy that these lifesavers are chopped down or burned by the millions.
You can imagine that when inhaling contaminated air, you are polluting your cells. Slowly but surely, your entire body will suffer the consequences of this polluted air, and you will start suffering from different ailments. A study from Cornell University states that 3 million people die each year because they breathe polluted air that includes smoke and different chemicals.
The more one dives into this issue, the more worrying it gets. You can, after all, choose the water you drink and also be careful with what food you eat, but you do not have a say in the quality of the air you breathe. If that is true, are you helpless and forced to breathe polluted air? Let's face it, we are the ones who pollute the air with our actions and lifestyle.
The first step in the right direction is to be informed about the whys and hows. Perhaps you are able to move to a place where the air is better, but few people can do this. Then comes the fact that polluted air travels on the wind and bothers people living far away.
Arnold Schwarzenegger recommends this book
Here you can read about the air we breathe, the impact it has on our health, and what we can do to improve it. Did you know that globally, every day 18.000 people die from air pollution? So each year 6.5 million people die and that is more than HIV/AIDS, tuberculosis, malaria, and car crashes combined? Amazing that we are doing this to ourselves.
.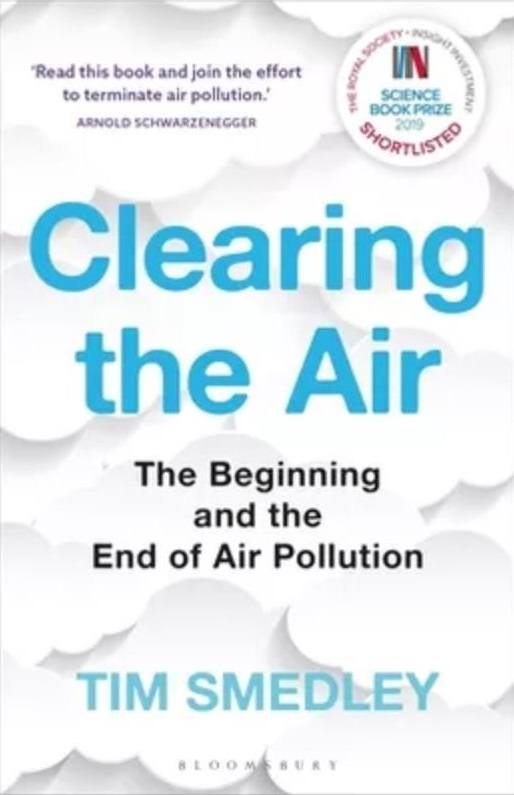 .
Let's have a look at the ailments
The list of diseases caused by air pollution is long, so I will mention only a few. You can read the website I just linked for more information.
Birth defects and immune system defects. Dirty air affects a pregnant mother and her unborn child. When our cells do not get sufficient oxygen, they malfunction.
Leukemia. This is a type of blood cancer. Cancer thrives in an environment lacking sufficient oxygen. The more oxygen you have in your body, the less chance cancer has to develop.
You might get irritated eyes, headaches, and or dizziness but these are minor ailments compared to the rest.
Comparing countries
I came across some very interesting data you might like to see. I live in the south of Spain, upcountry and away from industrial areas. Surrounded by many trees and green farms. I bet the air is good here. The cities like Barcelona and Madrid had a big problem with air pollution. Recently, steps have been taken to make 0 emission zones in Spanish cities.
They put cars into one of 4 categories, and if they pollute a lot, it restricts them in certain zones of the city. Recently, Madrid and Barcelona started requiring cars to have Ambiental badges so the police can see from a distance if that particular car can drive there or not.
People visiting countries from Europe with their own car would do well to inform themselves before departure. The air in the big cities in Spain was sometimes so bad that house pets walking the streets, small children, and older people were suffering.
Let's go across the pond and look at America
Actually, America was doing fine. Since the 1980s, America's air pollution rates had declined. At this time, the U.S. is listed among the top ten countries with the best air. A list which includes Australia and several European countries.
But soon the U.S. will no longer qualify for that ranking. The biggest problem is the fine particulate pollution. The official name is PM2.5 as these particles are 2.5 micrometers in diameter. So small you cannot see it, but it is in the air you breathe. Power plant smoke, car exhaust, wildfires, and other incendiary events cause it.
In 1970 the Clean Air Act came into force and the EPA (Environmental Protection Agency) had the power to regulate and keep a tight watch on factories, gas stations, cars, planes, etc. This control was for the benefit of the people. The air was quite clean and caused air pollution-related deaths to fall 30% during this time.
This seems like significant news but one should not forget, the EPA classified the hometowns of 110 million Americans as not reaching the required standard.
Some alarming news
From 2015 to 2017, this positive trend has changed and now the U.S. is going in the opposite direction. The causes are more wildfires, the rise in temperature but most importantly, the rollback of former environmental regulations. There you have it. The president does not care what air you and your family breathe. He has rescinded the national standard for emissions.
Scientists warn that even if you cannot say "it is the climate that causes pollution", what is true is that rising temperatures will worsen the air quality.
Conclusion
What can you do? First of all, be informed about the rules and regulations. If you disagree with the air quality they force you to breathe, contact your representative in congress. Join a strike demanding cleaner air and next time you vote, consider if this person will care about the water you drink, the food you eat, and especially the air you breathe.
The environment normally provides good and healthy air. Man-made inventions often pollute this good air. One needs to find the right balance.
I have made a special page for you. It holds a collection of things you could find interesting. Before you leave visit Recommendations.
Source: Well.Org Team
Photo Source: Pixabay
These last years, the world has suffered many huge fires. Trees which are our alleys cleaning the air are being destroyed. You might like to read the following post.
Who Is Responsible For The Wildfires Destroying Mother Earth?