(Last Updated On: August 4, 2021)
Aloe Vera, your Ally, and Friend
Aloe Vera or Aloe Barbadensis is a gift from Mother Nature.
It seems to be forgotten by most people, but nature provides for all our needs.
In the Bible, Genesis 1:29 one can read:
God said, Behold, I have given
you every herb bearing seed,
which is upon the face of all earth,
and every tree, in which is the fruit
of a tree yielding seed;
to you, it shall be for meat.
This plant has been known for at least 4000 years and was used to heal wounds, especially for burns, rejuvenate and soften the skin and hair. It was effective in treating acne, inflammation, and bruises. If taken internally, it would help constipation, stomach ulcers, arthritis, and high blood pressure.
Aloe Vera documented in History
It is often called the Silent Healer, and the Indians believed that all those who were touched by it would be healed. Its use goes far back in history. In India, China, and Tibet, it was used for eczematous skin conditions. The earliest recorded pharmaceutical use of Aloe Vera is in form of Sumerian clay tablets from around 1750 B.C.
There are 2 papyrus which tell us from the use of Aloe Vera in old Egypt. One is called papyrus Smith, which is being kept in the Medical Academie in New York and the other is Papyrus Ebers, which is being kept in Leipzig in Germany, dated to 1500 BC. Men would use the gel after shaving and in the hot dry climate, women would use it for their skin.
It seems that Cleopatra also used it. It was used in the embalming process of pharaohs and nobility. There are carvings on temple walls from as early as 4000 B.C.
There is a lot of documentation from Imperial Roman times. It seems that the middle and upper class would use it internally and externally and it was applied to war wounds and the injuries suffered in the arena.
Marco Polo discovered on his travels that in China be it the population and at the Imperial court there existed real admiration for its healing properties.
During the reign of the Catholic kings, Isabella and Ferdinand the Aloe Vera plant was cultivated in the south of Spain. Mahatma Gandhi, who lived from 1869 to 1948, used to drink Aloe Vera juice frequently.
There are too many examples in history to name here, but luckily at the beginning of the last century scientists pick up interest and started to investigate. Not always were these experiments successful, but at least investigation continued.
Stabilized Aloe Vera Gel
When one buys a product that says: Aloe Vera Gel 100% one has to be sure it is stabilized Gel. The moment the gel from a leaf comes in contact with air, it starts to oxidize and therefore loses its properties. Also, the plant has to have the right age as when it is too young it has not grown into its full healing potential.
If you have a chance, keep a real plant at home. In the case of an emergency, only make a minor cut in a leaf and use the gel that comes out. The plant has the power to heal itself. If though you need a big quantity then you have no other option to cut off an entire leaf. Open it lengthwise and then use it up completely, no good to keep a piece until the next day as it will have oxidized.
It is not difficult to grow some Aloe Vera plants in your garden or on your balcony. This YouTube video gives you tips on how to do that.
.
.
Ingredients of the Aloe Vera Plant
The gel contains a long list of ingredients, Saponins, Minerals like Calcium, Manganese, Sodium, Copper, Iron, Magnesium, Potassium, Cinc, Crom, and some more. Also Vitamins like Beta-carotene, B1, B2, Folic Acid, C, B3, B6, B12.
Amino acids, and a lot of Enzymes.
There is one part of the leaf which has laxative properties. This part is called Aloina and should not be consumed, but it has excellent properties for skincare.
Private Use also for Pets
I have used it myself for my house pets when they had a minor wound. It takes only 3 minutes for the gel to penetrate. Just keep your pet from licking that spot for a while.
In 2007, I had an extremely bad fall. I have a 60-meter long driveway from the house to the gate and this road is cemented.
That summer afternoon I played golf with Cindy, a big Rothweiler Lady. 5 Meters in front of the gate, I threw a ball direction house and suddenly I flew through the air. Cindy, who was standing behind me, had completely overlooked me. She scooped me up and sent me flying. My head, elbow, foot, but especially my knee crashed on the hard ground.
Below my knee, I had a gaping hole. The size of an egg and was also half a cm deep. I hardly dared to look. I washed it and put some gauze folded a couple of times into a square on the wound. Then I put a sizeable amount of gel on and covered it again with various layers of gauze. Every time under the shower the top layer would come off and I would put gel and cover it again.
One day, more than a month later, everything just fell off, and I saw a pretty, completely pink, and flat scar only the size of half an egg. Over the years you can hardly see it anymore.
I have also used it when I had problems with my gums or any kind of itch.
A very good and informative book.
I have the book The Silent Healer standing in my library. It is the definite sourcebook on Aloe Vera in the world for over 30 years. This is an encyclopedic work that is sponsored and co-authored by the father of practical Aloe technology, Bill Coats.
Aloe Vera used in scientific research, medical case histories, veterinary medicine with animal studies, professional athletics. This is a treasure trove for all those who are interested to know more about this amazing plant.
.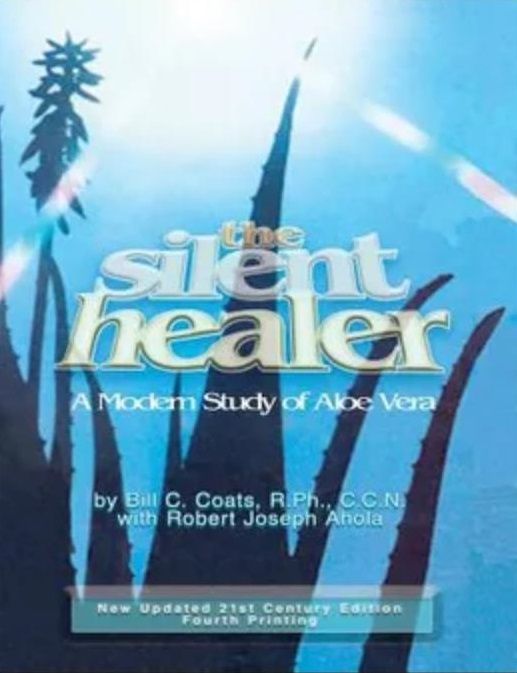 .
Conclusion
Whenever possible, use the products Mother Nature supplies us with. Most of the time you are better off using this instead of chemical things.
I thought it might be a pleasant idea to make a collection of things I find useful and or interesting. Before you leave, have a look at Recommendations. I hope you find something you will like.
Source: Forever Living Products
Photo Source: Pixabay
Mother Nature is full of surprises. One of her gifts is clay. Take a look and read my post on the therapeutic uses of clay.