(Last Updated On: August 2, 2021)
A trip back to my childhood visiting the Keukenhof
A Kaleidoscope of color and gorgeous smells was awaiting me
After more than 50 years I have revisited a special place in Holland, the world-famous Keukenhof. A spring garden, which is a delight for one's eyes. This vast park of 32 hectares is beautifully laid out and holds up to seven million tulips beside a variety of other bulb species. Each year over 1 million people from all over the world visit the Keukenhof.
You will see different areas with a small board describing which bulb nursery provided bulbs for this particular display. There are immense areas around the Keukenhof, even up into Friesland, where you will see the vast fields where the tulip bulbs are growing.
The Keukenhof and its history
Castle Keukenhof is situated on a large estate of which the Keukenhof gardens form a part. This vast property is some 230 hectares and comprises forests and agricultural land. The castle was built in 1642 and has known many owners.
In 1949 a group of leading flower bulb growers got together with some exporters and decided to create the Keukenhof as a showcase for their beautiful flowers.
In 1950, the park opened its doors for the first time and received 236.000 visitors in that same year. Over the years the Keukenhof has become world-famous attracting visitors from all countries. 20% of the visitors are Dutch and 40% come from European countries, especially Germany and Belgium. From the US comes some 10% and China has some 8%.
Nowadays 100 bulb companies participate and show their blooming products. They supply the bulbs in autumn to be planted by 40 gardeners in time for the flowering season, which is mid-March to mid-May. Depending on the weather condition, the tulips flower around mid-April.
My experience visiting the Keukenhof
As I said at the beginning of this post, I had not been back for 50 years. While still living at home with my parents, they on having friends staying, often planned a trip to the Keukenhof. It was like a tradition. I always enjoyed going there, but over such a long period of time memories do tend to lose some of their colors.
Going back this year in April, I relived my childhood memories and my eyes feasted on the colors. As there are so many more visitors than in the old times, the organization has had to grow and now is huge. It starts when you arrive at the Keukenhof.
Having booked parking and the visit online, it was easy. Passing many control posts and showing our reservation, they directed us to an available parking space.
We arrived at 10.30 and that was early enough to get a good spot because many cars came after us. In other areas, tour buses from all over Europe were parked, and the entrance was packed with mingling people.
You could hear many languages and see many races, often in their national costumes. On entering you can pick up a free map of the park, which really helps to find your way around as it is so big.
Entering the park
We were so lucky, having chosen this particular day for our visit. Holland suffered a week-long little heatwave, up to 27C. On the day we came, the weather had changed considerably, and the temperatures had dropped to 13C. The heatwave had induced 90% of the tulips to open, and our timing could not have been more perfect.
We started walking and were greeted by the first beautiful color combination of tulips. Wherever you looked you saw colors and people marveling and enjoying them.
Even if there were so many visitors, I soon noted a very special detail. Everybody was so nice and polite. Nobody was loud and whenever an individual of the slowly forward-moving stream of people stopped to take some photos, the others would patiently wait, to then continue their way. I observed this during the over 4 hours we walked through the beautiful park.
The entire world is present here today, and everybody is so nice. I wish the world outside the Keukenhof would be the same.
The very special layout of the park
In 1857, landscape architect Jan David Zocher and his son Louis Paul Zocher redesigned the castle gardens. Later they became the creators of the Vondelpark as well.
While walking, we discovered some lovely corners. A big part of the park had old and tall trees. These trees showed fresh light green colored leaves which attenuated the light, actually ideal for taking photos.
There were big parts with water sections. In the middle was a small island that was not reachable by the public, so the water birds had a private place for their nests. Water cascades and fishponds completed the layout
All this was filled with tulip beds in full bloom mixed in with some other types. One could see amazing color combinations where ever you looked. Difficult to decide which was nicer.
The result is masses of photos taken, not one prettier than the other. We walked for over 4 hours absorbing this natural wonder. In the park, you will find an enclosed exposition hall with beautiful flower arrangements, various souvenir shops, and restaurants.
Conclusion
The Keukenhof is situated near Lisse, in the province of South Holland. This does not mean in the south of Holland. It is more in the middle of the upper half of Holland on the Westside. If you plan to visit Holland, I would really recommend you to visit in the springtime as a visit to this beautiful park is an absolute must.
What a book
The tulip has a fascinating history. It originated on the barren and windswept steppes of central Asia to reaching a place of honor in the imperial gardens of Constantinople.
In general, Dutch people are rather sober and hardworking burgers. In the 1630s they got caught in a frenzy of buying and selling the delicate tulip. Passing from one owner to the next and increasing its price constantly after 1 year, the tulip bulb was sold for such a high price you could have bought a house instead.
Then came the enormous crash and ruined speculators and investors alike. Tulipomania is history and a real-life story.
.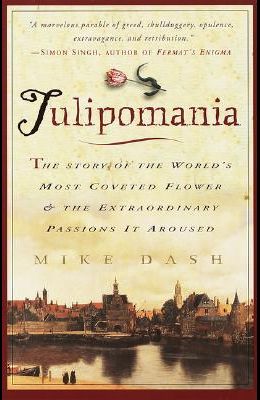 .
Before you leave, please visit Recommendations. It is a special page I made for you. I hope you will find something of your interest.
Source: Wikipedia and the official website of the Keukenhof
Photo Source: Private
There are many beautiful places one can visit. I live in Spain and there are gorgeous National Park. Perhaps you like to read this post on some of them.