(Last Updated On: August 3, 2021)
Fossil hunting in the south of Portugal
We recently (March 2017) got a chance to take a week off so we left Spain. As some friends were on holiday, we took the car on a pleasant drive (~600 km) to the south of Portugal. The drive was comfortably casual, as the traffic was sparse.
Just before the border with Portugal, we stopped in a lovely small town (Lepe) known for its strawberry plantations and had a wonderful meal. This was in the tapas-style, small amounts of four different dishes. One portion was an eggplant dish that was absolutely delicious.
Arrival in the south of Portugal
We arrived at our hotel in Albufeira later that afternoon. We actually got lost several times, but with the help of 4 or 5 different people, we did find the place. Albufeira is an old community but has grown quite big because of tourism. The hills go right down to the shore and a lot of the hotels are built a short distance from the beach.
A few days later, we took a drive up into the mountains north of Albufeira to a town called Monchique. The region is hilly with lots of cork trees. As a reminder, cork trees do not die when part of their bark is removed, but it takes 25 or so years to grow it back. The photo to the right is a perfectly formed Araucaria heterophylla (common name "Norfolk Island Pine".)
The old part of Albufeira is quaint, with its narrow streets. There are a lot of shops with local products such as items made of cork (handbags, wallets, photo frames), and there we bought a hat and a nice belt.
One shop, in particular, was interesting because it had some wonderful stone and shell items. Lamps made from crystals and some made from seashells. Not the usual bulb in a shell, but really artistically crafted items.
We stopped in at a small out-of-the-way restaurant that had recently opened for the season. They offered a very nice menu and again, the meal was delicious.
At the end of the world, Cabo San Vincente
We took a day trip to explore the most western part of the south of Portugal. Going all the way to Cabo de San Vicente, it appeared that we were heading to the end of the world. This video was taken from Cabo de San Vicente and shows the storm surge from Hercules (2014).
With what looks to be 40-meter cliffs, being there you can imagine what people must have felt when it was still believed the earth was flat. You kind of fall off and then what? The scenery is impressive, with a lighthouse high on the cliffs and the waves breaking on the rocks.
.
.
On the way back, we passed what appeared to be an old monolith. Who knows how old it is or if it is even remotely related to the monoliths of Stonehenge.
Before reaching the hotel, we made a stop at a cactus nursery. I was amazed at the different varieties I saw there. I bought 2 small and pretty ones for my collection on the patio.
.
.
.
Adventure on the beach
Before the trip, we investigated the possibility of fossil hunting and we found a beach with sediment that was part of the Miocene epoch (5–23 million years old). This part of the coast is known for its small beaches and caves. There you will see the different layers of the rock with fossilized shells. I tried to hack some small pieces out but was unsuccessful, as the rocks were too hard.
While walking on the beach I was so lucky to notice a strangely shaped stone. It turned out to be an intact fossil with hardly any rock attached. I just picked it up to take home.
Beautiful Hand-painted Ceramic
On the road back to Albufeira we stopped at an old house that was converted into a pottery shop.  The shop, Porches Pottery, has a wonderful garden along with a café where we saw a number of locals and tourists enjoying coffee and conversation.
This little shop was started by Patrick Swift and Lima de Freitas who were determined to prove that this craftsmanship was not a thing of the past. Since they started the pottery shop over 45 years ago, they have continued to train more artists.
We bought a few small souvenirs which find good use in our house.
You can find out more about this world-famous shop on the following website: http://www.porchespottery.com/en/.
We present some of our photos for your pleasure.
The naughty seagull
On coming home to our Hotel Resort, I washed the fossil with water and put it to dry on a small table on the balcony. In the hotel gardens live many cats, probably all family of each other as they look very much alike.
There is also an enormous flock of seagulls that have taken up residence close to the swimming pool. Often one can observe funny scenes like one time where I saw a seagull with a stolen flip-flop, which had been standing unattended on a small terrasse.
While the seagull was playing on the lawn, a cat crept up from behind, probably thinking it was something edible. Suddenly I heard a noise and went out to the terrasse. A seagull had tried to steal the fossil but as it was too heavy, it dropped, luckily it did not break.
Going on holiday you will need an excellent guide
The world-renowned 'tell it like it is' guidebooks now offer one on Portugal and it includes, free, the eBook "Discover Portugal". This comprehensive, entertaining, 'tell it like it is' Rough Guide has loads of independent recommendations and practical information for the intrepid traveler.
Do you intend to visit the wine regions, enjoy Lisbon, or take a different route like what we did, "The Rough Guide to Portugal" will help you discover great places to explore? You will find information on where to stay, dine and, of course, shop.
.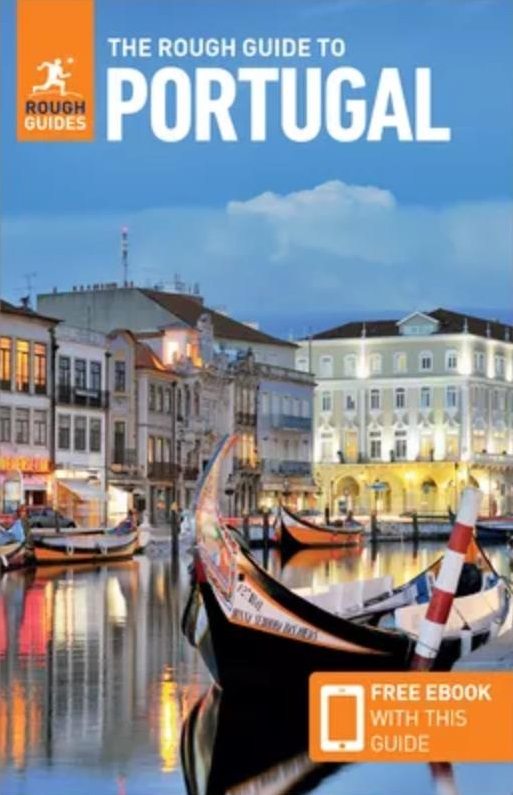 .
There comes the day when all pleasant things end
Finally, we had to go home. Across the border, we stopped at a small town for coffee and said goodbye to Portugal. This is the bridge that links Spain with Portugal.
I hope you liked my trip. Personally, I think traveling is one of the nicest things you can do in life. It broadens your horizon meeting people from different cultures. Going places, enjoy the cuisine, beautiful nature, and all the amazing things your guest country can offer.
I have made a special page for you. It is a collection of things I think you might find interesting. Before you leave, have a look at Recommendations.
Source: My Life
Photo Source: Private Photos
Perhaps you like to read this post traveling in the Malaga province. We can find there many interesting things. Thousands of years unfold before your eyes.
The fascinating archeological legacy in the province of malaga