(Last Updated On: August 4, 2021)
The beautiful variation of precious stones
Precious Stones and their magical fascination to people. It is quite amazing that often a not very exciting-looking piece of stone can have a shiny and beautiful inside. It all depends on the person who works this stone to be able to bring this beauty forth by carefully cutting and polishing it.
It takes many years for this person to be skilled in the trade of stone polishing, and often this skill is passed on from father to son.
Important Manuscripts on Precious Stones
People nowadays and people from the distant past have been fascinated by stones, their beauty, and their properties. Pliny, in his Naturalis Historia, mentioned some 20 authors as the source of his knowledge on stones.
Most of these mentioned works do not exist anymore, but one has survived until today. The treatise on stones from Theophrastus who lived from 371 to 287 BC.
The most detailed and complete treatise of the Middle Ages on stones is called Azhar al-Afkar fi Jawahir al-Ahjar (The blossoms of thoughts regarding precious stones) The writer, Al-Tifasi, (circa 1184-1253) gives a detailed report on 25 stones giving each of them a chapter.
He discusses where the principal mines were located, the forming of the stones, their physical properties like hardness, etc. He also explains the uses each stone has, be it medical or magical. He continues by analyzing its purity, optical appearance, and how much it would cost to buy these stones on the market.
All the different civilizations have used stones as a means of beautifying through jewelry. The magical and healing properties stones were thought to have in aid for ailments and also as a form of payment.
The tomb of Childeric
They made an unusual find in 1653 in Tournai, Belgium. It was the tomb of Childeric, king of the Salian Franks from 457 to 481 and the father of Clovis. The treasure eventually was given as a diplomatic gift in 1665 by Emperor Leopold to King Louis XIV of France.
One of the items was 2 golden bees or cicadas with wings that held inset garnets. They were probably used to decorate the royal coat or the harness of the king's horse.
These Merovingian bees inspired Napoleon, using them instead of the Fleur-de-Lys as the symbol of the French Empire. In Paris, in the Louvre Museum, one can find a marble statue of Napoleon. In the photo of Napoleon's statue, one can see these bees on his coat.
Nature can be full of surprises. Have a look at the following YouTube video on polishing stones. I got a rock-tumbler for my birthday some years ago. I can tell you it is fun. Searching for special stones when we go on a trip. Then the 4-week treatment and then, finally see the results.
.

.
A great book
This is a must-have. If stones are your hobby, you like to make jewelry or enjoy rock hunting. Over 1,500 full-color photos show the reader precious and semi-precious stones. Enjoy the stones in their rough natural or their polished and cut renditions.
You can also read about coral, ivory, amber, and pearls, as well as alabaster, onyx, obsidian, and fossils. This is the most complete reference book with million copies in print.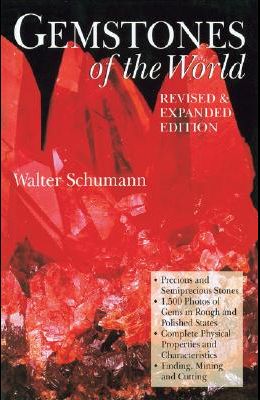 .
The Traveler Jean-Baptiste Tavernier
A jewel merchant and renowned traveler of the 17th century was Jean-Baptiste Tavernier. He lived from 1605 to 1689 and was the son of a French Protestant who had to escape from Antwerp due to religious persecution.
Between 1632 and 1668, he made six voyages to the East. He visited many countries like Cyprus, Malta, Turkey, Syria, Iraq, Iran, Afghanistan, Pakistan, Indonesia, Sri Lanka, and India.
In 1676 he published his two-volume Les six voyages de Jean Baptiste Tavernier. Already 200 years prior to his visit, diamond mines were operated in India.
They published the first modern scholarly edition in English in 1889. A British civil servant with the Indian Geological Service, Dr. Valentine Ball, wrote a biographical sketch of Tavernier and also included a translation and notes.
Ball wrote several appendices about famous diamonds (including the historic Koh-i-Noor Diamond which now belongs to the British royal family), also about diamond mines in India and Borneo, ruby mines in Burma, and sapphires from Ceylon.
The most remarkable pages are where he tells of Tavernier's visit to the diamond mines of India and his inspection of the jewels of the Great Mogul.
The Great Mogul Diamond
Akbar the Great Mogul lived from 1542 to 1605. He was a patron of culture and the arts and had a keen interest in religion and the possible sources of religious knowledge. There is a diamond with the name, Great Mogul Diamond, which was probably discovered around 1650 and Tavernier describes it in his book as a diamond with a rose-cut and being some 280 carats.
Conclusion
The fascination with precious stones will remain, as this is one of Mother Earth's beautiful gifts to us. For us, to wear and enjoy.
I have made this page especially for you. Before you leave, have a look at Recommendations. You might find something of your interest.
Source: The World Digital Library
Photo Source: Pixabay
Stones are special and people have known that for thousands of years. Perhaps you also like to read about healing stones? If yes, then please read the following post.