(Last Updated On: August 5, 2021)
How Mushrooms can save our Planet
Childhood memories
I have very fond childhood memories while still living in Holland. On the weekends, my parent would often take me to visit the Hoge Veluwe park. Aside from being able to visit the famous Kruller Muller museum with the paintings of Vincent van Gogh, you will find beautiful nature, wild boars, and deer.
When the season was right, after some rain in the autumn, my mother would say it would be nice to go there and see if we might find mushrooms. She would make great omelets with Cantarella and from the velvet-looking Boletus she would make up a dish where you would taste pieces of meat.
They taught me that one should never pick the small ones, give them time to grow. Neither should one take all the mushrooms to not destroy that place. Always leave some so they can expand again. I am talking about the years from 1956 to 1965 because I left Holland that year to go and study, but I still remember the smell of those woods after a light rain.
Mushrooms and its many healing properties
Mushrooms have a lot of health benefits for us humans. There you see how Mother Nature provides for us. Mushrooms have been used by most ancient civilizations for thousands of years, as their healing properties are amazing. Research has identified more than 299 conditions where eating mushrooms would have a positive effect.
They boost your health and help prevent many diseases. They are full of important nutrients, B vitamins, selenium, potassium, copper, and the important vitamin D. People who replaced most of the meat in their diet with mushrooms were reported having lost weight over a longer period as well had less diabetes.
It has been proven that mushrooms are a top fighter against cancer. They found antitumor compounds in different mushroom species. Taking them in your diet on a regular basis helps fight the risk of getting breast cancer, uterine cervical cancer, gastric cancer, and quite a lot more cancer types.
In a study by the University of Western Australia in Perth 2000 women who consumed at least a third of an ounce of fresh mushroom dropped their risk of getting breast cancer by 64%
The above might not be new to my reader, but the following news which I recently heard could well surprise you. Mycologist Mr. Paul Stamets explains in his very popular Ted Talk that mushrooms might well have the ability to solve some of the most pressing and serious problems we have today. Mushrooms are not only good for your health, but they have a much bigger capacity still.
First, have a look at this video about how to collect wild mushrooms the right way.
Some unknown and amazing facts on mushrooms
They can clean up oil spills. How often it has happened these past years that somewhere in the world a ship would wreck, leaving beaches with black blobs and killed birds, fish, and other animals living there.
Absorb farm pollution. We now know that cows pollute, especially kept in stables in bad and unnatural conditions. What about the products used by the farmer on his land? There is a lot of pollution to clean.
The mushroom battles smallpox and Flu viruses. That is a better method than letting big Pharma take care of those problems.
Combat insects. Here again, to have a natural method to find a balance between all living things is better than taking your killer spray every day.
The creation of healthy environments for farms and forests. How good would that be? Be in harmony with nature. I think there is a place for everything in our world.
Mushrooms could present a sustainable fuel source in the near future. A clean source that does not pollute and does not pose a health risk for all living things. Mushrooms form part of nature's recycling system and in case they would not exist there would be no plants as mushrooms and mycelium break down rocks and organic matter, turning it into the soil which plants need to grow.
How about a special cookbook?
When you come home with a basket full of Chantarelle, Porcini, and Boletes, what dishes are you going to cook? This book will help you decide. Fifty mouth-watering recipes, lovely photos, and all the tricks of the trade to become an expert.
This book is the perfect gift to yourself or anybody who is a forager and mushroom lover. Enjoy your meal.
.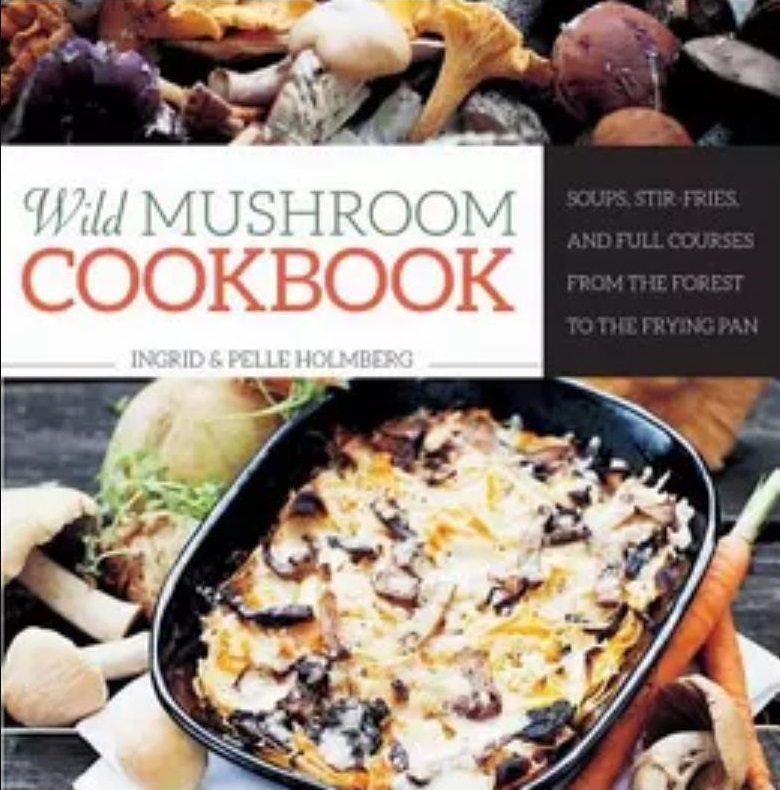 .
Please have a look at this video, it is so interesting and eye-opening.
Thank you, Mr. Paul Stamets, for this uplifting news. By the way, this video is of 8 Mai 2008 but we are still mainly talking instead of doing.
An afterthought
Mother nature has her own ways to heal herself. We can learn many things by observing nature.  How to mend our mistakes. It does not take much to learn to live in harmony with creation. Teach your children from a young age how to collect mushrooms the right way.
Before you leave, have a look at Recommendations. It is a special page I made for you with things I think you might find interesting or helpful.
Source: Lindsay Oberst of the Food Revolution Network provided this exciting news.
Photo Source: Pixabay
Have you heard about this? An organic city, a lovely idea. You might find the following post also interesting.