(Last Updated On: August 1, 2021)
The scourge of our society is domestic violence
Physical and verbal abuse
Domestic violence is an ugly word, as it implies, in most cases, that a woman is suffering abuse. This abuse can be verbal and/or physical and leaves its victim marked for life. Most times, the woman does not dare to speak up. Depending on where she lives, society might blame her for it.
She wants to protect her children and suffers in silence. She does not dare to tell her family less they think she is a terrible wife and mother. Often, thru many years of humiliation, she has lost all self-esteem and thinks she is worthless.
She is brainwashed into thinking she is inferior and therefore does not find the strength to protest and try to find help.
Some countries do not provide any statistics on domestic violence, and some give wrong numbers on purpose.
Some statics on the U.S.
It seems that in the United States, approximately 1.3 million women and 835,000 men are reported as having been physically assaulted by an intimate partner annually. The leading cause of injury to women from age 15 to 44 is domestic violence.
I am surprised that the number of abused men is so high, but the percentage of men reporting abuse is lower than from women. That means that the number of abused men is a lot higher than in the statistics.
That would mean the given number of 835.000 is on the low side. American ladies seem to be aggressive, sometimes more than men? I wonder what brought that on. To be emancipated, does that include an inclination for violence? I do not know, but I am puzzled.
You will find domestic violence on all social levels, but it seems that having financial difficulties, unemployment or low wages can trigger aggression. Being stressed and anxious makes one prone to overreact.
Where you are born does make a difference
Depending on where the woman lives in the world, many awful things can happen to her. Without going into lengthy explanations or very much in-depth, I would like to tell you she might experience one of the following atrocities.
Acid throwing
The most common types of acid used are sulfuric acid and nitric acid. The attacker intends to disfigure, maim, torture, and kill the victim. Most of the time it is thrown at the face, causing disfigurement, blindness and sometimes it can even dissolve bones.
Besides the physical consequence, there are social, psychological, and economic consequences. Bangladesh had 3,512 cases reported between 1999 and 2013.
In India and Pakistan, these types of attacks are increasing every year. The UK has one of the highest rates of acid attacks per capita in the world. In London only, there were 1,200 cases of acid attacks recorded from 2011 to 2016.
Breast ironing
The mother of the pubescent girl will say that breast ironing or breast flattening is done to protect the girl from sexual harassment. To prevent an early pregnancy that would harm the reputation of the family. Like this, the girl can study and does not get forced into early marriage.
They use hard or heated objects for this method. Grinding stones, coconut shells, a wooden pestle normally used for pounding tubers, hammers which are heated over coals. This is practiced in certain parts of Cameroon, West, and Central Africa, in Benin, Chad, Ivory Coast, Kenya, Togo, and Zimbabwe.
Female genital mutilation
UNICEF estimated in 2016 that 200 million women living today in 30 countries – 27 African countries, Indonesia, Iraqi Kurdistan, and Yemen have undergone the procedures. This can include partial or total removal of the external female genitalia or other injuries to the female genital organs for non-medical reasons.
This can happen within a few days of birth up to puberty.
The thought behind these practices is to control women's sexuality. The problems are many. Infections, difficulty urinating and passing menstrual flow, not being able to get pregnant and problems during childbirth as well as fatal bleeding.
I have spared you the more gruesome details of the different methods used.
A disturbing film
Did you by chance see Desert Flower, a film from 2009? It is the authentic story of a Somalian nomad who was circumcised at 3, sold to be married at the age of 13. She escaped Africa and became an American supermodel. At the age of 38, she became the UN spokeswoman against female genital mutilation.
Foot binding
To have Lotus feet was considered a status symbol, but it caused women a lifelong disability. It probably started among upper-class court dancers during the Five Dynasties and Ten Kingdoms period in 10th century China.
It spread to all social classes through the years and by the 19th century; it is estimated that between 40 to 50% of all Chinese women had bound feet. It seems that nearly 100% of upper-class Chinese women had bound feet. The oldest girl of a lower-class family might have her feet bound in the hope she could marry higher up.
The toes were folded under the foot till they would break. They were wrapped so tightly that they never really mended. Additionally, the arch of the foot was also broken. Every time the bandage changed, it was tightened, causing the broken foot to take on its new shape.
No need to say this procedure caused great pain for a long time.
The Manchu Kangxi Emperor tried to stop this practice in 1664 but was not successful. Only in the 20th century did this practice die out as the result of anti-foot binding campaigns. The last shoe factory Zhiqiang Shoe in Harbin, which made Lotus Shoes closed its doors in 1999.
.
.
Bride burning
They practice this form of domestic violence in countries on or around the Indian subcontinent. This awful act happens when her family refuses to pay additional dowry. They murder the woman in the crudest way by her husband or his family. In most cases, they douse the young woman with kerosene and then set her on fire, killing her in a most painful way.
In India, this has been a major problem since 1993, with 2,500 death each year.
In 1986, the Indian Parliament added dowry deaths as a new domestic violence crime. They can make a charge of dowry death if a bride, within 7 years of marriage, is killed, and it is proven that she was subject to cruelty or harassment by her husband or relatives of her husband. The instigators will get a sentence of at least 7 years up to life imprisonment.
The burning of the widow
700 years ago, a practice, called Sati, was started that would require widows to be burned together with their deceased husbands. It is said to have started among the ruling class or Rajputs in India. The women preferred to die after their men had been defeated in battle, to prevent being claimed by the victors. The British rulers outlawed this custom in 1829 in India.
You might remember the famous film, Around the world in 80 days (1956.) The film was based on the story of Jules Verne. David Niven saves a young widow, Princess Aouda played by Shirley Mac Laine, from burning on the funeral pyre with her late husband.
There are many more awful things happening to women in the entire world like: Forced abortion, Forced marriage, Forced pregnancy, Marriage by abduction, Honor killing, Rape, Forced prostitution, Human trafficking, etc.
I think that it is unnecessary to expand this list more than with this information. It is more than clear that women worldwide suffer just because they were born a woman.
Domestic violence in Spain
I live in Spain and every afternoon I look at the Spanish news at 15:00 hours (3:00 PM). More than often, one hears about a new victim of domestic violence. This makes me sad as each man is born of a woman. He has a mother, grandmother, aunts, and this should make him realize that women are part of creation, the same as he is.
We are different but equal and can complement each other.
Recently, I read a special story in the newspaper. The title was: My dog has given me back the freedom I once lost to domestic violence.
A great initiative, the foundation Mariscal
The Foundation Mariscal donates dogs, which are specially trained to women who have experienced domestic violence. This project started 8 years ago and has changed the lives of abused women. It takes 300 hours to train a dog for this new job.
The dog and the owner have to go through this intensive program, as it has to be sure they are an excellent team and can cope with real-life situations.
The dogs which are chosen for this training have to have some typical characteristics. First of all, they must have an imposing physique, but most important is that they have the instinct of protection.
The women who are given a dog to accompany them in daily life regain their confidence. These women dare to go out on the street and talk to men again.
The project of Angel Mariscal has already donated 50 dogs to women in Spain. These dogs help women to come back to normal life. This is a really admirable project which more countries could follow up on. We should eradicate domestic violence from our world.
All violence in whatever form should not exist in a civilized world. This will only happen when we realize we are all equal.
Conclusion
I was born in Australia and my parents had Dutch nationality. I spent most of my life in European countries. I never suffered domestic violence. I realize how lucky I am. Humanity has still a long way to go.
A very helpful guide
Well, what can one say about this world's best seller?. The writer gives advice to couples after years of successful counseling men and women on the bumpy road to understanding each other.
He shows that men and women react differently in conversation and how their relationships are affected by male intimacy cycles and female self-esteem fluctuations.
This book will give you practical suggestions on how to reduce conflict, which in itself can already be the key thing you need to salvage your relationship.
.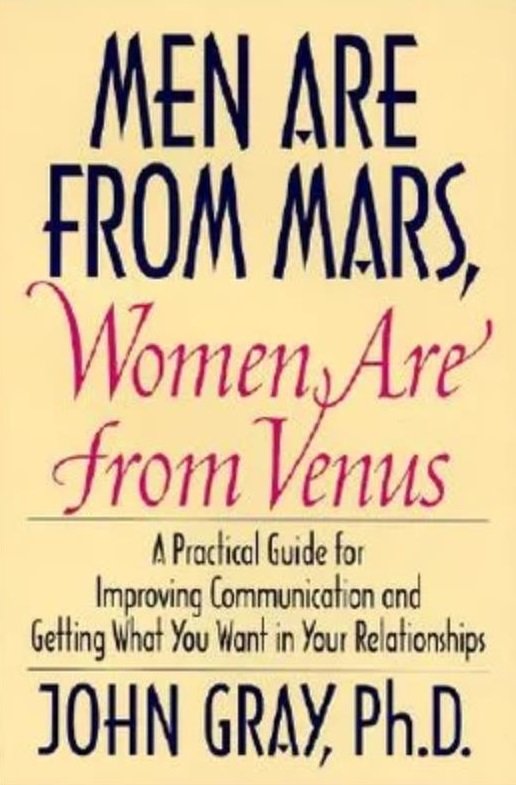 .
An Afterthought
We have gone through an unusual and cruel 2020. Even if 2021 has just started, it looks the same as last year. The third wave of COVID-19 is in full bloom, and the end to this is not in sight. One of the many problems that appeared is the intensifying of domestic violence in our society. Nerves are on edge more than ever.
People considered nice and well-balanced suddenly show an aggressiveness not known before. If you have knowledge or even witnessing domestic violence, report it immediately.
I have made a special page for you with a collection of things you could find interesting. Before you leave, have a look at Recommendations.
Source: Wikipedia and the Sur in English, Nov. 16th to 22nd 2018, Article by Alvaro Frias and Juan Cano
Photo Source: Pixabay
You might be interested to read the following post.