(Last Updated On: October 31, 2023)
Will we humans survive?
The survival of the Human race is in our hands. It does not look very good. There are so many factors one has to take into account, but most of these are being made or influenced by us. Our Planet is such a wonderful place, it is abundant in clean water, beautiful nature and it could provide for our everyday needs.
The problem is we always want more; we want the latest, the biggest, and the most expensive. The more we turn away from nature and consume man-made gadgets and man-made food, we are not really doing our best for the continuation of the human race.
The dangers of Pollution
Our environment is getting polluted and we as people are getting sicker. Because all these negative impacts are influencing humans in unusual ways. An important fact is being discussed lately. The drop in sperm quality could make humans extinct.
I remember when Elvis Presley came on the scene, tight jeans and an electric guitar. People were saying that it was not healthy. Well, the world population continued growing as we all know. This time it does seem a serious issue and is documented in a BBC news article written by Pallab Ghosh on July 25th, 2016.
The evaluation by researchers of some 200 studies rings an alarm bell. The sperm count of men in North America, Europe, Australia, and New Zealand seems to have halved in the last 40 years.
All this being due to our modern lifestyle, stress, man-made foods, toxins, and chemicals in the air and water, and radiation just to name som
. Men are becoming more like women, with too many female hormones everywhere. At this rate, the human race will become extinct.
The other culprit seems to be smoking, and obesity linked to a sedentary lifestyle. These 2 conditions are often combined and do not promote a healthy sex life and also influence fertility in a big way.
In Newsweek on the 25th of Jan. 2015, an article was published written by Douglas Main saying that BPA disrupts sperm development and therefore is linked to the decline in male fertility.
Plastic bottles may contain Bisphenol-A or similar estrogenic chemicals and our men are becoming feminized. BPA and those other estrogenic chemicals seem to damage stem cells. There also seems a possibility that these alterations in the stem cells will be passed down to future generations.
What normally happens in those cases from the side of the industry, makers of those plastic bottles deny any negative side effects of using their products. That is normal as they earn the money and you pay, apart from cash, with your health in the long run.
BPA is just one of those dangerous modern things. We are surrounded by unhealthy things which have an impact on our health and that of future generations.
An interesting book
The book by Sarah A. Vogel explores the roots of the contemporary debate over the safety of BPA and the concerns presented by its estrogen-like effects even at low doses. Anybody interested in maintaining their health should read this book.
.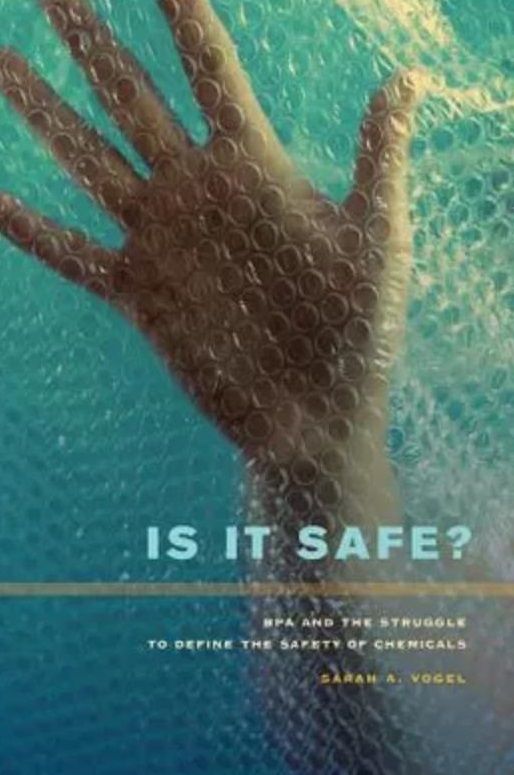 .
The ban on BPA
As so much has been written on the negative effects of BPA in plastic bottles and the fact that it has been banned in various countries, manufacturers have started finding a substitute. One of the new substitutes is called BHPF = fluorene-9-bisphenol and is already widely used.
This new substance is also harmful to our health. As when BPA binds to the body's estrogen receptors, BHPF just blocks their normal activity.
There you see, from one bad and unnatural thing on to the next. One should avoid using plastic as much as possible. Do not drink water from a plastic bottle, take a glass bottle. This also applies to baby bottles. Even low levels of these chemicals have a negative influence on fertility.
As the last tip. Avoid putting plastic containers in microwave ovens or dishwashers, the plastic will degrade under the heat and the fact that the micro-oven changes your food on a molecular level while in the meantime you are being radiated does not help your health either.
Conclusion
Modern times make it more difficult for men to stay healthy as a lot of man-made items are not good for your health, stay informed and thus keep the human race from becoming extinct.
It seems that especially men living in Western countries are most at risk. The following video is an eyeopener, do not miss it.
I have made a special page for my visitors. Please have a look as you might find something of your interest in Recommendations.
Source: BBC News and Newsweek
Photo Source: Pixabay
Luckily it is not only bad things that are out there. Many unknown solutions can be found. Once again Mother Nature provides for our needs and we are not even aware of it. Have a look at the following post, it might really surprise you what a mushroom can do for us and the planet.