(Last Updated On: August 1, 2021)
Mother Earth needs help, time is running out
Climate change and global warming are recent additions to our vocabulary. I think that by now most people know what they mean. Just to make sure you understand the differences between the two terms (as I understand them), too much carbon dioxide (CO2) contributes to what is called the greenhouse effect.
There are more chemicals that add to this effect, and their global warming potentials are expressed as CO2 equivalents (CO2e). As the atmosphere warms, the seas warm, thus global warming.
As the seas are the major driver of our climate, this warming causes the airflow in the atmosphere to change. For example, if there is a large patch of warm water near Indonesia, it can cause a change in the air patterns in the northern hemisphere and that will change the climate in the U.S.
So, global warming is significantly affected by pollution, this, in turn, contributes to warming seas and this contributes to climate change.
Our actions and their effect
To address our contributions, we pollute the water and the air. We cut trees and keep too many animals as a food source. One of the major sources of pollution, our cars, is a source of pollution that no one wants to address. After all, no one is willing to give up their personal mode of transportation.
All of these negative actions are contributing to global warming and therefore climate change.
While it is getting warmer, the ice will continue to melt and soon, many coastal regions on our planet will slowly but surely disappear under the water. This is already happening in the islands of the South Pacific. The Marshall Islands normally are only about 6 feet above the water.  Now, you can see the seas rising and the people of these islands struggling to maintain their land.
When you look around, you see a lot of negative and sometimes positive information. I would like to point out some of them.
Here comes some good news
California has passed a new law that will make the state carbon-free by 2045. This is quite contrary to the course the rest of the US is taking, as President Trump does not believe in Global warming and opted out of the 2015 Paris climate deal. Remember that California (as of May 2018) is the 5th largest economy in the world, just surpassing the UK.
Now you might say that 2045 is still quite far away, and changing by that date could be too late to save the planet. But we have to start somewhere and now, worldwide, there are many countries which are getting greener every year.
Anyhow, California is the second U.S. state after Hawaii, which has realized the importance of going green. By the year 2030, all California utility companies must get 60% of their energy from renewable sources to then by the year 2045 be completely green.
There are many people who have raised their voice on Global warming. One of them is Al Gore who, for 40 years, has drawn out attention to this fact.
Here comes some bad news again
Now on the other side comes some disturbing news. The person who attacked Bears Ears and the Grand Staircase- Escalante is promoting drilling on most of the U.S. coastlines and also pushes the bright idea of cutting 800 years old trees in the Tongass Park in Alaska.
He has now come up with a new idea. You can bet it is a terrible idea, but what can one expect from a person who denies global warming?
How easing the rules can cause a catastrophe
This new decision, to weaken the rules on gas and oil companies and allowing them to release huge loads of methane into the atmosphere, will exacerbate the already growing volume of CO2e chemicals currently being released into the world's atmosphere.
Who do you think thought up such a brilliant idea? President Trump and acting EPA administrator Andrew Wheeler. It seems that neither public health nor our future is important. Money rules the world but we, the normal citizens, really do not see much of it.
Here you can view an interesting video of National Geographic.
The Waste Prevention Rule
They are trying to weaken the common-sense Waste Prevention Rule. This rule requires that oil and gas companies take common-sense actions to prevent the waste of valuable gas on federal and tribal lands. It also includes the reduction of harmful air pollution including methane, smog-forming gasses such as nitrogen oxides, and sulfur oxides, besides other toxic pollutants.
How on earth can a president try to destroy what we have? I find it strange, dangerous, and sad and do hope the people wake up and put a stop to all this harmful nonsense. There are, luckily, many groups that are speaking up and I hope many more will follow for the benefit of humanity as a whole.
More than once, one reads that our Planet has a deadline, a deadline for climate change, or the point of no return. Are we willing to run the risk? It seems too many people really do not even care. This news is very alarming, to say the least. A new report gives some worrying data.
A new report and a serious warning for all of us
The UN Intergovernmental Panel on Climate Change (IPCC) warns that by 2030 is when we should expect the crucial threshold of 1.5 degrees Celsius (2.7 degrees Fahrenheit) will be passed. This will contribute, if not actually cause, extreme drought, wildfires, floods, and other weather phenomena.
The consequences will be that hundreds of millions of people, worldwide, will be close to starving as food will become short.
They base these apocalyptic predictions on current levels of greenhouse gas emissions. The so-called Ostrich behavior of sticking one's head in the sand will not make this looming event go away.
Be prepared for big changes
Global warming and climate change will (has) cause(d) instability in the weather patterns and will show up as extreme weather events. Who would imagine that hurricane Michael would make landfall in Florida as a level 5 hurricane this late in the summer?
Just as climate change will cause severe drought in some places, in others it will cause massive floods. On one part of the globe, the scarcity of water will cause crops and cattle to die, while somewhere else massive floods will wash away land and make life impossible.
Hurricanes will be more and more destructive than Harvey, Florence, Sandy, or Michael. You must also consider that the U.S. is not the only country that is experiencing very heavy hurricanes (called typhoons in the Pacific).
Wikipedia says that the 2018 hurricane season "is the most active Pacific hurricane season on record". Climate change causes all of this. Coral reefs will disappear as the water temperature rises, making it too hot for corals to survive.
Some countries show it is possible to go green
The fact that a lot of countries are doing their best to go green is a good sign, but not enough. Globally the net emissions of carbon dioxide need to fall below 45%, calculated on the numbers from 2010 to 2030. Then by 2050, it should be 0% just to maintain this 1.5 degrees C. rise.
Of course, this means big changes in the industry, transportation, and cities as a whole. Some people say that it is not possible, but I strongly disagree.
An afterthought
Before the industrial revolution, we had mainly agriculture and horses. Then factories were built and mining started, including big changes be it thought-wise, work-wise, and investment-wise.
There are countries that have made the switchover from gas and coal to wind, sun, and water. It is possible, but everybody has to see and want it.
The idea that with our actions we will make this planet an awful habitat, when actually caring for the planet would make life great here, is a concept not yet understood by all. I hope this understanding will come before it is too late.
A colorful and captivating book
Andrew Revkin, the strategic adviser for environmental and scientific journalism at the National Geographic Society, presents us with this beautifully illustrated book. Humanity's developing relationship with Earth's dynamic climate system and the wondrous weather it generates. I am sure you will enjoy this book.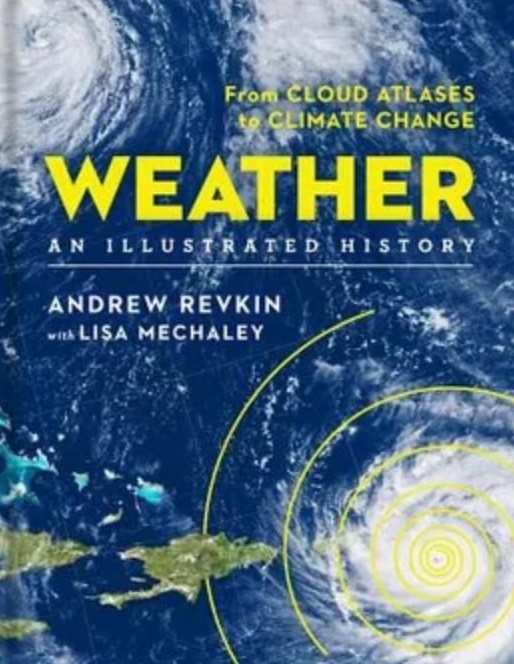 .
Lately, I came across this video; it was really disturbing. It shows our sins and tells us there is not 1 minute to lose. I hope you will watch this video; it is eye-opening.
I have made a special page for you with a collection of things you might find interesting. Before you leave, have a look at Recommendations.
Source: BBC News, 10th September 2018. CNN, 8th October 2018, story by Brandon Miller and Jay Croft.
Photo Source: Pixabay
Perhaps you like to read this post. There are some unusual solutions out there.