(Last Updated On: August 4, 2021)
Our Future Generations are at Risk
Far-reaching consequences for our future generations
I came across some really disturbing news lately. It has to do with our future generations, They seem to be at risk. You might be thinking this post will be on Global Warming and of course not taking care of our Planet will make it impossible for future generations to live here. But there are other dangers that seem to make it difficult for the Human race to survive.
Our Water, Soil, Air, and also our Food are filled with Toxic Pollutants which will not only harm us and the lives of our children but it has a far more reaching effect on the following generations than was initially believed.
Chemicals and unborn babies
EWG and other researchers in the last 10 years have shown as a proven fact that all these awful toxic chemicals which form part of our daily life can reach unborn babies through the umbilical cord.
Not only are we responsible for the lives of our babies after they are born, but also during the 9 months of pregnancy. Some people might even say for a long time before getting pregnant, one should prepare one's body for this big event.
Studies have shown that these chemicals do not only harm us and our children, they even may change on a genetic level and alter their functions for future generations. These future generations might not come into direct contact with these chemicals, but they will suffer the consequences of their ancestors having been exposed.
This is called a transgenerational effect.
A change in the human race, how we know it
Epigenetics–This is the study of chemical markers which attach to DNA and by doing so changes the way the DNA functions. If there are epigenetic changes not only in eggs but also in sperm that will mean that the future generations of Human Beings will differ from what we know today.
Normally, epigenetic markers are being reset from one generation to the next, but what happens if the egg and sperm markers have been changed? It will pass on erroneous information onto the next generation to then be repeated again. Perhaps, in the long run, a Human from the future would not recognize people from the past as his or her ancestor.
To be a passive smoker
We have all heard the term Passive Smoker. It does not only affect the person who smokes, but also the people surrounding this person, including animals which live with us. Nowadays there are more dangers in the form of chemicals over which one has hardly a say.
Only you are the one who decides what to eat. Water and air are more difficult to decide on as others normally do that for us.
The same applies to radiation. It is difficult to stay clear of it completely as we ourselves produce it and it is also present all around us. It is getting more and more difficult to stay healthy as the world we live in has a huge impact on our health and that of future generations.
Already now one sees more children which are diagnosed with neurological and behavioral conditions, more than in the past.
This is because we are more exposed to dangerous pollutants during gestation and even exposure in the time before conception. That is why we have to live as clean as possible less the Human Race disappears in the form we know it.
.
No Human Race
How would the world look without us, very different? It would look peaceful, no pollution of any kind, and nature would take over so fast, soon overgrowing all we have done and made.
Still, our future generations could live on our beautiful planet as Human Beings who respect their own bodies and the environment. Now if we don't, it does not look too bright, I think.
The following video shows our destructive behavior and I think the end of this video illustrates our righteous punishment. The world is better off without us.
Every time I look at this video, and I have seen it multiple times, I am amazed we did not see this coming. If we mend our ways, we might still make it, but there is extremely little time left.
A book with a fresh perspective on the world we create
Fred Guterl, the author of this book, is executive editor of Scientific American. A lot may happen which could wipe out humanity. Like the avian flu, or the rise of the sea levels. How about technological inventions? The possibilities are manifold.
Now do not think this is a scary or even apocalyptic book. Humans are capable of great things. Let us hope common sense will prevail.
.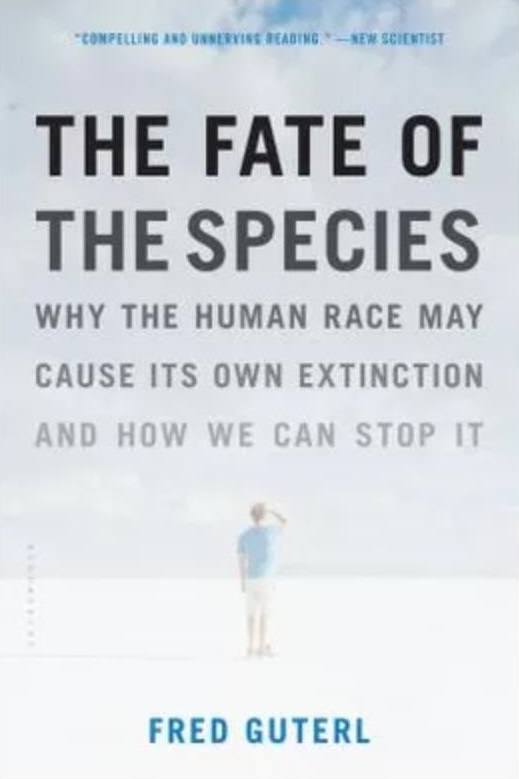 .
An Afterthought
Some years have passed since I wrote this post, and many things have happened. The world is upside down. Our whole society, the things we took for granted, have been altered or have disappeared. There are rumors to mandatory vaccinate the world population. Scientist and doctors have raised their voices protesting this dangerous idea.
Every year millions of people get a flu shot and one wonders that after doing it for so long the flu always comes back. With Covid-19 it is even getting more serious. To be vaccinated with substances that have not been tested is very risky. On top comes, that one cannot sue these companies legally.
One also hears the claim our DNA could be altered through these vaccines. The more I hear, the more I am convinced that at this rate we are going, it will be extremely difficult for the human race to survive as we know it.
I have made a collection of things which I find interesting and helpful. Have a look at Recommendations, I hope you will find something of your interest too.
Source: EWG 13 July 2017, article by Sonya Lunder
Photo Source: Pixabay
Modern life seems to be full of helpful things, but often the side effects are not taken into account. Perhaps you care to read this post too. Please have a look.